Homily delivered on November 18, 2020 at the mid-week Public Service of Healing, with featured Saint: St. Hilda of Whitby, at Saint Andrews Episcopal Church, Princess Anne, Maryland.
Ephesians 4: 1-6; Psalm 122; Matthew 19: 27-29
When I realized I was going to preach on St. Hilda of Whitby, I am pretty sure I screeched like a school girl.  As referenced in my bio that was emailed before I came aboard, I look to St. Francis of Assisi for guidance and inspiration.  St. Hilda is next on the list.  And really, she probably should be first on my list, simply in light of what she accomplished, as a woman, especially at the time she did, because of what female clergy still currently face at times, regardless of denomination.
St. Hilda of Whitby was one of the great lights of the early Anglo-Saxon church in Britain.  According to the book History written by St. Bede the Venerable, which is the principal source of her life, she was the great niece of St. Edwin, King of Northumbria.  With the rest of her family she was baptized by St. Paulinus when she was thirteen.  Bede wrote, "She spent thirty-three years most nobly in secular occupations" before deciding to "serve God alone."  As a nun Hilda spent time in a number of monasteries in East Anglia before returning home to found a new monastery at Whitby.  This would remain her home for the rest of her life, and under her leadership it would become an important center for the spread and consolidation of the Christian faith in England.
Whitby was a double monastery – that is, one comprising both men and women who lived separately but gathered together to chant the office. In the tradition of Celtic monasticism, in which Hilda was formed, it was not unusual for a woman to preside over such a mixed community. As its shepherd, Hilda set a standard for holiness, wisdom, and scholarship, promoting through her example of "the observance of righteousness, mercy, purity, and other virtues, but especially in peace and charity." She promoted the study of the Scriptures and the thorough education of the clergy. Bede observes that in her monastery "no one there was rich or poor, for everything was held in common, and none possessed any personal property."
Hilda also served as a spiritual director, serving not only her monastic children but the wider community.  "So great was her prudence that not only ordinary folk, but kings and princes used to come and ask her advice in their difficulties."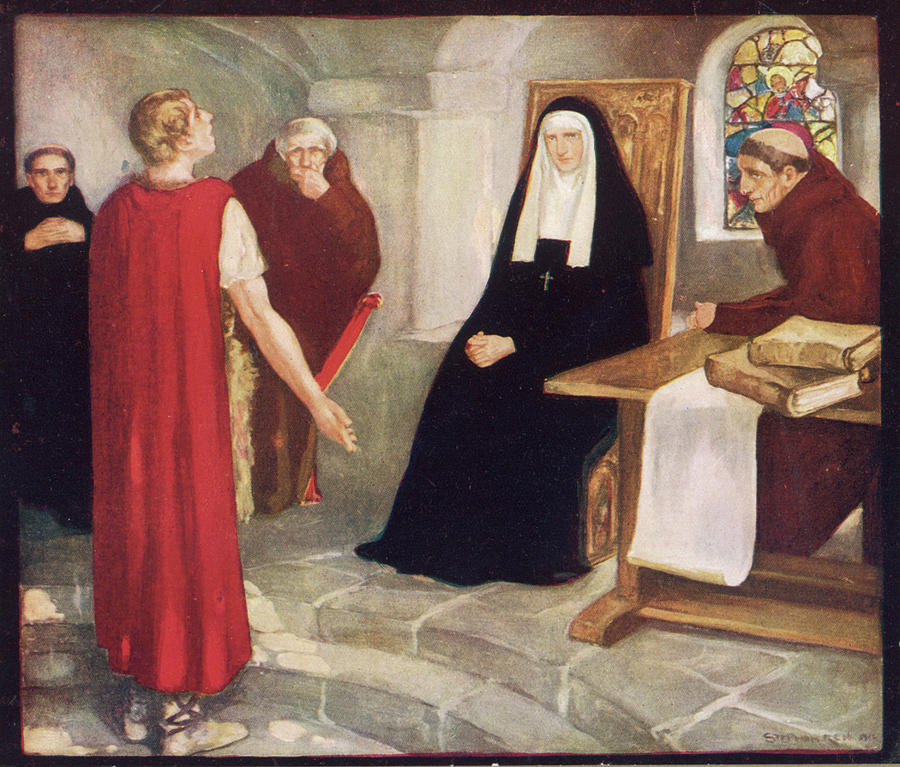 Five of her monks went on to become bishops.  She was also influential in encouraging the gifts of another saint, St. Caedmon, a cowherd and subsequent 'discovered' poet who became a monk of Whitby.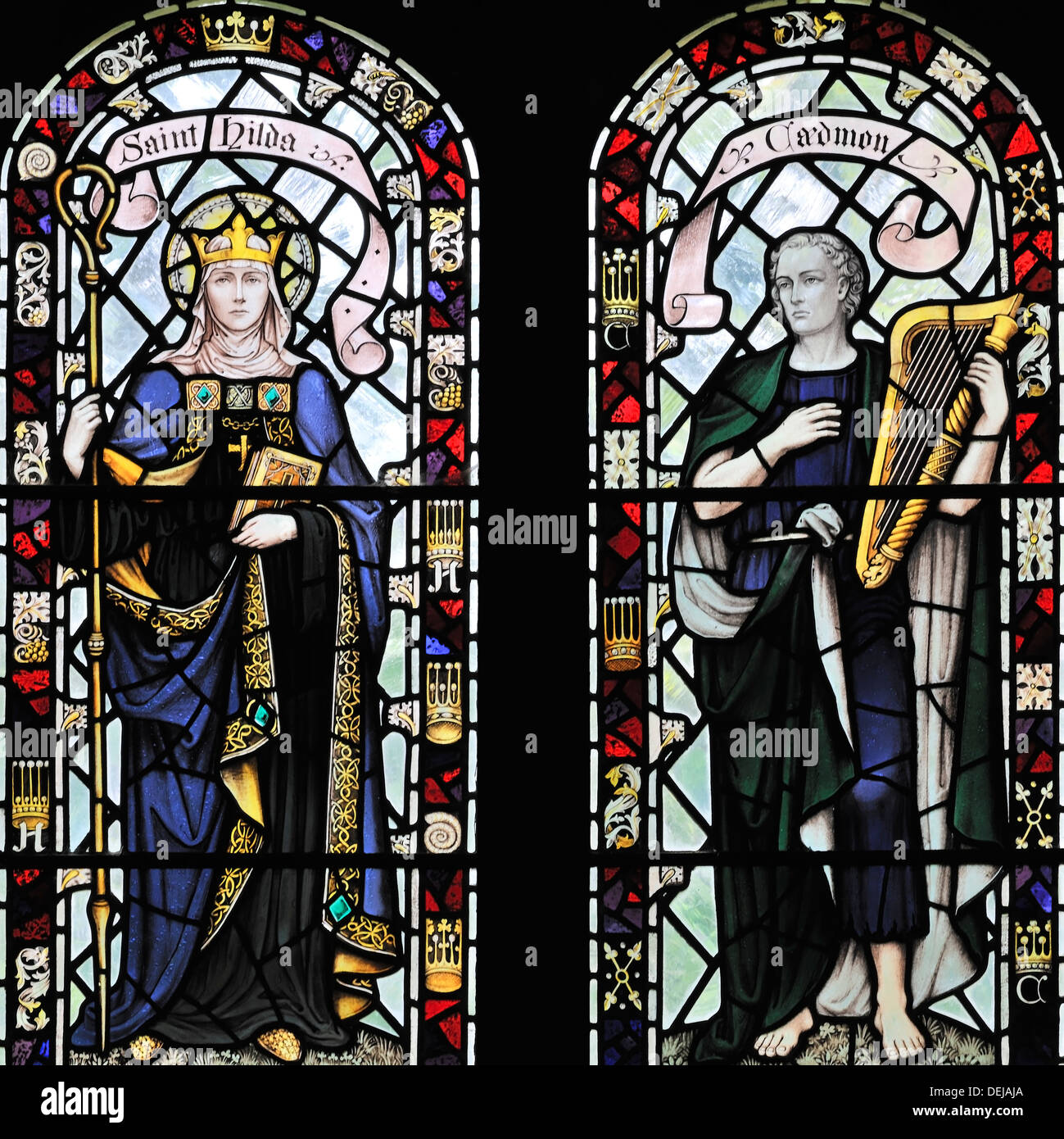 As a reflection of the prestige of Whitby, the monastery was chosen as the site for the important church synod of 664. The synod was called, ostensibly, to resolve disagreements about the correct day for observing Easter. But this issue was symptomatic of deeper tensions between those favoring the Roman model of authority, rooted in the male dominated episcopal hierarchy, and those inclined to the more monastic model characteristic of the Celtic church. Hilda favored the latter, but the synod decided otherwise.
Hilda's last years were spent in painful illness; apparently, she had a high fever for the final 7 years of her life.  But that didn't stop her from her work.  She never retired from her office nor did she ever fail to give thanks to God.  By her own example she instructed her flock "to serve God rightly when in health, and render thanks to him faithfully when in trouble or bodily weakness."  Her last counsel to her community was to "maintain the gospel peace among yourselves and with others."  She died on November 17, 680.
She epitomized the life worthy of the calling as outlined by Paul in today's selection from Ephesians.  In light of today's Gospel passage noting that those who have left homes, brothers or sisters, father or mother, or children for the Lord's sake, will inherit eternal life, it is interesting that Bede wrote: "All that knew her called her Mother."
In light of St. Hilda's loving humility and her approach towards possessions and what today we'd call class distinctions, it is unfortunate we don't have Matthew's immediately preceding verses before verse 27 AND the inclusion of verse 30.  What we have today is the ending of the parable of the rich young man (Matthew 19: 16-30).  The rich young man asked Jesus what he must do to inherit eternal life. Jesus first incredulously replied about asking "what is good" and that "if you wish to enter life, keep the commandments."  And of course, the man's response, 'which ones?' I can actually imagine Jesus rolling his eyes here but he answers about not committing murder, or adultery, or stealing, bearing false witness, honoring parents and loving neighbor as yourself. Now I imagine the rich young man being incredulous in return:  but I do all of this, what else?
And we get yet another impossible command: If you wish to be perfect, Jesus says, go, sell your possessions, and give the money to the poor and you will have treasure in heaven and then after that, then and only then, you come follow me.  The rich young man upon hearing this, walked away "grieving" no doubt with tale tucked between his legs because we're told "he had many possessions." 
Ouch!  But Jesus isn't finished.  He then continues, talking directly to the disciples and explains that it was easier for a camel to go through the eye of a needle than for someone who is rich to enter the kingdom of God.  It is only after that we today join Peter's disheartened plea of 'well, come on now, we left everything to join you, what the heck are we going to get in return?!' And after we have Jesus's response, we don't have verse 30, which formally ends this discourse: But many who are first will be last, and the last will be first.
We're told this man is young.  Although youth is not an encumbrance to discipleship, wealth is apparently is seen as such in this story.  Wealth was a traditional topic for sages, which is what we see in the book of Proverbs, but here we have another example of Jesus's counterorder wisdom which suggests that, rather than being a sign of blessing, wealth can actually be a hindrance to proper discipleship.  The command before Peter's heartfelt plea is to sell all possessions, give the proceeds to the poor, and then and only then, follow Jesus.  Let's think this through.
Liquidation of assets permits greater mobility and the ability to join the traveling fellowship of disciples (see Luke 8:1-3).  A rich person then is said to be able to enter God's realm or eternal life only by God's grace.  In all cases, salvation is a divine action, not a human one.  The theme of heavenly, or eschatological, reward is also a regular one in wisdom literature.  So, Jesus is assuring Peter that there are such rewards in the kingdom for those who have made sacrifices.  Jesus the sage foresees a day of remarkable reversal of fortunes when the last, least, despised, those ratted upon, spat upon and lost, will become the first, most, and found.  Those who are among the elite in this world will also suffer a reversal of fortune.
And this is why I wanted to provide the entire context for today's Gospel selection, especially verse 30: But many who are first will be last, and the last will be first.
For our modern context, I think this should be our 'target.'  Several of you are getting to me know me, and you know I am a hug Star Wars fan.  And so, to bring in a Star Wars reference: stay on target.  Wealth per se is not a sin.  But how do we view our wealth in relation to others (see James 2: 1-13), and what do we do with our wealth. And to be clear, wealth is not just about money.  Think back to what I spoke about Sunday, and my encouragement for us not to bury our talents, our gifts, and that discipleship is to share those abundantly for the kingdom of God.
Now we cannot totally relate to St. Hilda, since she was enclosed in a monastery, living in a community, with communal possessions and a communal purse, while engaging the world. We are in the world. But can you just imagine having a high fever for 7 straight years and yet getting up, every day, praising God, serving God rightly, giving thanks to him faithfully while in bodily weakness?
May we be deeply grateful for the gifts we have received and seek to share our bounty with those in need, for all those who live on the margins – whether the poor, the underprivileged, the migrant, the sick, our homeless veterans, those wrestling with drug addiction.  May their needs be met through just structures and the loving kindness of those around them.
Let us pray a prayer written in St. Hilda's honor:
O God of peace, by whose grace the abbess Hilda was
endowed with gifts of justice, prudence, and strength to
rule as a wise mother over the nuns and monks of her
household, and to become a trusted and reconciling friend
to leaders of the Church: Give us the grace to recognize
and accept the varied gifts you bestow on men and
women, that our common life may be enriched and your
gracious will be done; through Jesus Christ our Lord, who
lives and reigns with you and the Holy Spirit, one God,
now and forever.
Amen.